National Parks & Memorial Day
May 25, 2016
Market Versions Available
Generate full multimedia package for your market
Genere información para medios en su mercado
Memorial Day marks the unofficial start of summer, and the National Parks regularly attract their fair share of visitors during the summer vacation season. This year will likely see even more visitors than usual as the National Park Service celebrates its centennial.
With such a wide variety of climates across the park system, the country's 59 National Parks all have different challenges to manage in the changing climate. Some parks have experienced dramatic temperature changes, and these shifts can lead to water shortages (or too much water), ocean acidification, and species migration.
Click here to get the temperature trend for each national park over the past century >>

Some statistics from the National Park Service:
Everglades National Park — Sea level rise has contributed to retreating mangroves, in some places by a half-mile, indicating more salt water intrusion into the glades.
Glacier National Park — The number of glaciers has been cut in half since 1968, and they are expected to be entirely gone within the next 15 years
Yellowstone National Park — On average, there are 30 fewer days with snow on the ground than in the 1960s, and the growing season is 30 days longer since that time, increasing wildfire risk.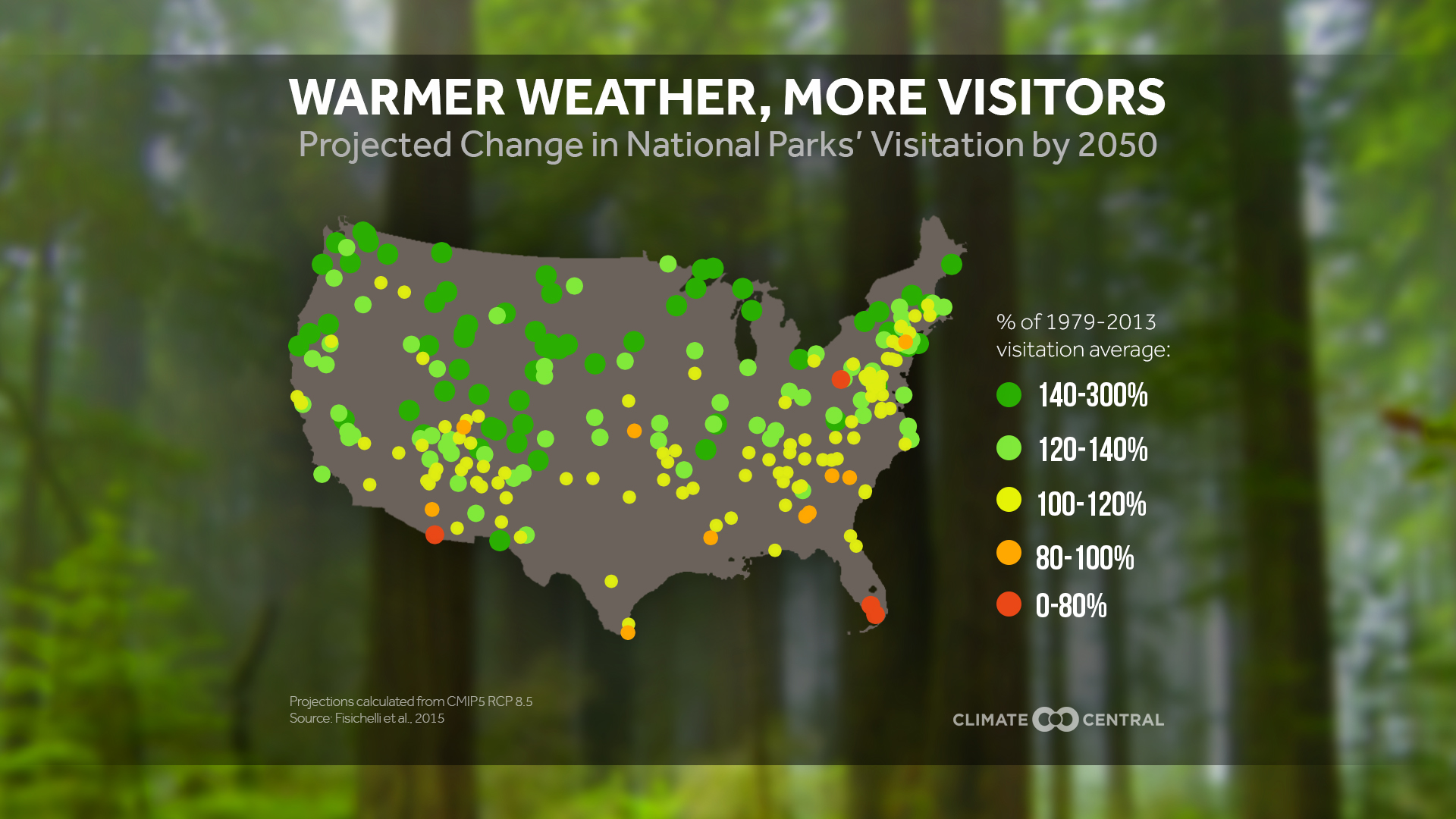 More than 300 million people visited a National Park last year, exceeding that mark for the first time in the park service's 100-year history. Visitation rates depend on multiple factors, but one of the primary drivers is weather and climate patterns — in particular, temperatures. A recent NPS study analyzed future visitation numbers based on historic visitation information, historic temperature trends, and temperature projections. The study found that, overall, park visitation is expected to increase, with the greatest growth in the high-latitude and high-elevation locations as higher temperatures will extend the prime visiting season.

Follow Climate Central this summer as we roll out our special series about climate change and the National Parks.
Aug 24, 2016
Most parks have seen their average temperatures rise in their first century, and as greenhouse gas emissions continue to climb, more warming is expected during the next century.
Feb 17, 2016
All four seasons across the country are warming due to climate change.