Fake or Real? The Great Christmas Tree Debate
Dec 18, 2019
So which is better for the climate, a real or an artificial Christmas tree? The answer is complicated. And scroll down below for data on holiday weather extremes and the odds of a white Christmas near you.
Market Versions Available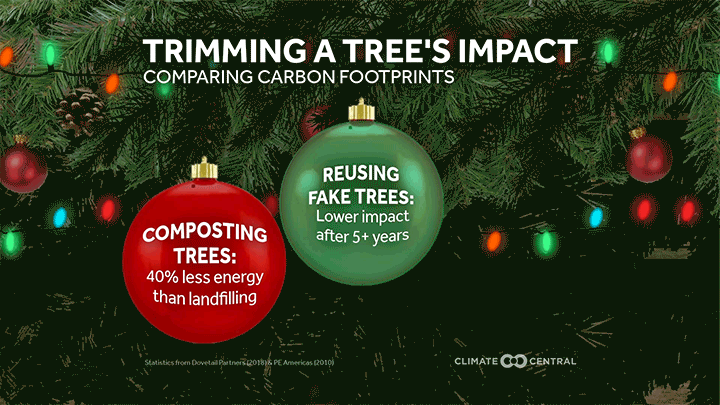 Title: JPG • PNG • MP4 • GIF
No Title: JPG • PNG
KEY CONCEPTS
The environmental impacts associated with a real or an artificial tree depend on many things, including where the tree is manufactured or grown, how it is transported to your home, how long you keep the tree, and what you do with the tree when the season has ended.

A comparative life cycle assessment of artificial and real Christmas trees has to take into account many assumptions. After exploring a number of scenarios, the analysis shows that in general, if an artificial tree is used for at least 4.7 years, there's a breakeven point between both of the trees' environmental impacts.
WHAT YOU NEED TO KNOW
HOW WE GOT THE DATA
Christmas temperature extremes and December temperature trends are calculated using data from the Applied Climate Information System. Extremes are given for each station's entire period of record, while trends begin in 1970 for consistency between stations. Displayed trend lines are based on a mathematical linear regression. A white Christmas is defined as having at least 1" of snow depth, based on analysis of the 1981-2010 NOAA/NCEI climatological normal. For more details, see our previous release here.
POTENTIAL LOCAL STORY ANGLES
How is the live Christmas tree industry doing in your neck of the woods?
Check out the National Christmas Tree Association's website for statistics on where trees are grown and harvested (Oregon is the leading state, followed by North Carolina) and other industry facts. The U.S. Forest Service maintains Treesearch, an online database of free, peer-reviewed research. Filter for articles by topics such as "Christmas," and then search your region or state. You can read about overall climate change and ecological disturbances on U.S. forests in the 2018 National Climate Assessment.
LOCAL INTERVIEW IDEAS
The SciLine service, 500 Women Scientists or the press offices of local universities may be able to connect you with local scientists or climatologists who have expertise on the impacts of climate change on weather trends in your area.
The National Christmas Tree Association can put you in touch with local Christmas tree farmers and the American Christmas Tree Association can connect you with local retailers of artificial trees.
NATIONAL INTERVIEW SUGGESTIONS
Clinton Andrews
Associate Dean for Research
Director, Rutgers Center for Green Building
CJA1@rutgers.edu
(848) 932-2808
James Farmer
Associate Professor, Indiana University
Research interests: Sustainable behavior and decision-making, natural resources sustainability
jafarmer@indiana.edu
812-856-0969
Jan 23, 2019
Despite the recent cold snap, warming is transforming America's winters.
Feb 13, 2019
As the climate warms, winter cold streaks are becoming shorter and rarer, affecting agriculture and winter sports industries that depend on reliable cold.